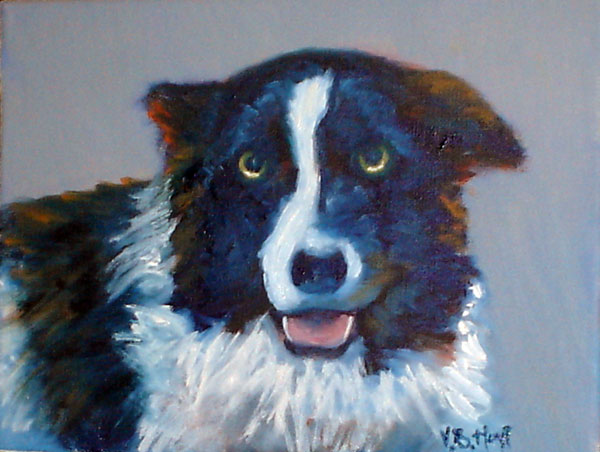 Serendipity Brooke
oil on 9"x12" stretched linen
copyright V. Bridges Hoyt 2006
This auction ends Thursday, October 26. Check it out!
20% of sale will be donated to TBAR, True Blue Animal Rescue in central Texas. Balance of proceeds will be paid directly to Brooke's vet, Critter Fixer Pet Hospital, for heartworm treatment.
Brooke is a seven year old Border Collie who was plagued with sarcoptic mange and secondary bacterial infections, flea allergies, hookworms and heartworms when rescued. She has since recovered from the mange and bacterial infections. She now smells sweet as a rose. She no longer scratches. Her hair is growing in nicely. She has been treated for hookworms. All that remains is the heartworm eradication. She is a sweet girl and very smart, obedient and willing to please. She can catch a ball in mid air, but after playing for a while she is winded and very tired because of the heartworms. She deserves a clean bill of health and a chance at life. Please bid up on this auction to help Brooke recover completely. Thank you.
Available through eBay, this
listing
ends October 26.