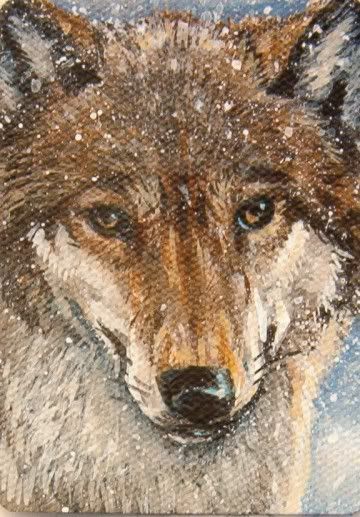 2.5" x 3.5"
Acrylics on Heavy Weight Canvas
This original miniature painting is being offered as a 20% donation to Wild Spirit Wolf Sanctuary. Wild Spirit provides life-time sanctuary to abused, abandoned, and unwanted, wolves and wolf hybrids. Whether it is an attempt to capture a piece of the wild beauty of nature, an impulse to own an exotic creature, or some other compulsion, captive-breeding and selling of wolves and wolf-dogs in the US has reached epidemic proportions. All too often, uneducated and unprepared buyers, no matter how well-intentioned, acquire wolves and wolf-dogs only to realize too late that these wild animals can never be made into pets. All across America, these wild spirits languish in cages and on chains or face death sentences.
Wild Spirit Wolf Sanctuary provides them with another answer.
Wild Spirit Wolf Sanctuary is a non-profit organization that depends solely on donations.
To find other items for sale for Wild Spirit simply search WSWS in the eBay search bar.
Thanks, Robin Andreae